The 13th IFAC/IFIP/IFORS/IEA Symposium on Analysis, Design, and Evaluation of Human-Machine Systems
IFAC HMS 2016 will be held in Kyoto, Japan, on August 30 - September 2, 2016. The symposium continues the success of the previous meetings, which were held in Kassel (DE), Atlanta (US), Seoul (KR), Valenciennes (FR) and Las Vegas (US). The objective of this symposium is to exchange ideas and further understanding in the areas of Human-Machine Systems, Human-Computer Interaction, Intelligent and Autonomous Systems and Decision Support Systems. The symposium will especially highlight the paradigm shifts in research and practice. We witness in these areas due to the recent advance of communication and information technologies.
Award Winners
The initial filtering for the best papers was based on the reviews that were given to each paper. After the initial filtering, four senior international committee members judged the quality of the nominated papers based on the technical soundness, awareness of literature, technological contribution, originality of the concepts, style and clarity, technical presentation and importance of results. As a result of that, due to the excellent quality of the selection and of the papers, the following awards were given at the closing ceremony.
Young Author Best Paper Award*
was presented to Frank Michiel Drop, Daan Marinus Pool, Max Mulder, Heinrich H. Bülthoff
for the paper entitled "Constraints in Identification of Multi-Loop Feedforward Human Control Models"
*The best paper presented by PhD student or Post doctoral researcher younger than 35 years, who should be the first and corresponding author of the paper.
American Best Paper Award
was presented to Tamsyn Edwards
for the paper entitled "Multifactor Interactions and the Air Traffic Controller: The Interaction of Situation Awareness and Workload in Association with Automation"
European Best Paper Award
was presented to Alexandre Kostenko, Philippe Rusffet, Christine Chauvin, Gilles Coppin
for the paper entitled "A Dynamic Closed-Looped and Multidimensional Model for Mental Workload Evaluation"
Asian Best Paper Award
was presented to Yukio Horiguchi, Takaya Suzuki, Tetsuo Sawaragi, Hiroaki Nakanishi, Tomoharu Takimoto
for the paper entitled "Extracting Train Driver's Eye-Gaze Patterns Using Graph Clustering"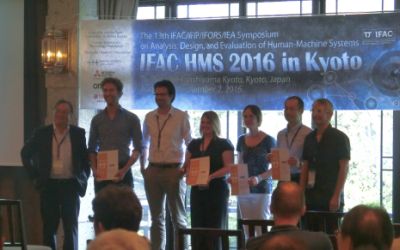 What's New